Overview
Everyone pronates! Contrary to popular misconception it is healthy and normal. The problem begins when one or both of our feet pronate too much. When the arches
flex
too far inward or stay collapsed for too long pronation is considered excessive. We call this overpronation. Overpronation is by far the most common foot type. Pronation is not linked one-to-one with low arches. Although pronation lowers the arches, this does not mean that only those with low arches overpronate. People with high arches can also overpronate! Some of us have always overpronated, for others overpronation develops with age, weight gain, regular standing work or intensive exercise.
Causes
There has been some speculation as to whether arch height has an effect on pronation. After conducting a study at the Rose-Hulman Institute of Technology, Maggie Boozer suggests that people with higher arches
tend
to pronate to a greater degree. However, the generally accepted view by professionals is that the most pronation is present in those with lower arch heights. To complicate matters, one study done by Hylton Menz at the University of Western Sydney-Macarthur suggests that the methods for measuring arch height and determining whether someone is ?
flat
-footed? or ?high-arched? are unreliable. He says, ?For this reason, studies investigating the relationship between static arch height motion of the rearfoot have consistently found that such a classification system is a poor predictor of dynamic rearfoot function.
Symptoms
It is important to note that pronation is not wrong or bad for you. In fact, our feet need to pronate and supinate to achieve proper gait. Pronation (rolling inwards) absorbs shock and supination (rolling outwards) propels our feet forward. It is our body?s natural shock-absorbing mechanism. The problem is over-pronation i.e. the pronation movement goes too deep and lasts for too long, which hinders the foot from recovering and supinating. With every step, excess pronation impedes your natural walking pattern, causing an imbalance in the body and consequent excessive wear and tear in joints, muscles and ligaments. Some common complaints associated with over-pronation include Heel Pain (Plantar Fasciitis) ,Ball of foot pain, Achilles Tendonitis, Shin splints, Knee Pain, Lower Back Pain.
Diagnosis
Look at your soles of your footwear: Your sneaker/shoes will display heavy wear marks on the outside portion of the heel and the inside portion above the arch up to the top of the big
toe
on the
sole
. The "wet-foot" test is another assessment.
Dip
the bottom of your foot in water and step on to a piece of paper (brown paper bag works well). Look at the shape of your foot. If you have a lot of trouble creating an arch, you likely overpronate. An evaluation from a professional could verify your foot type.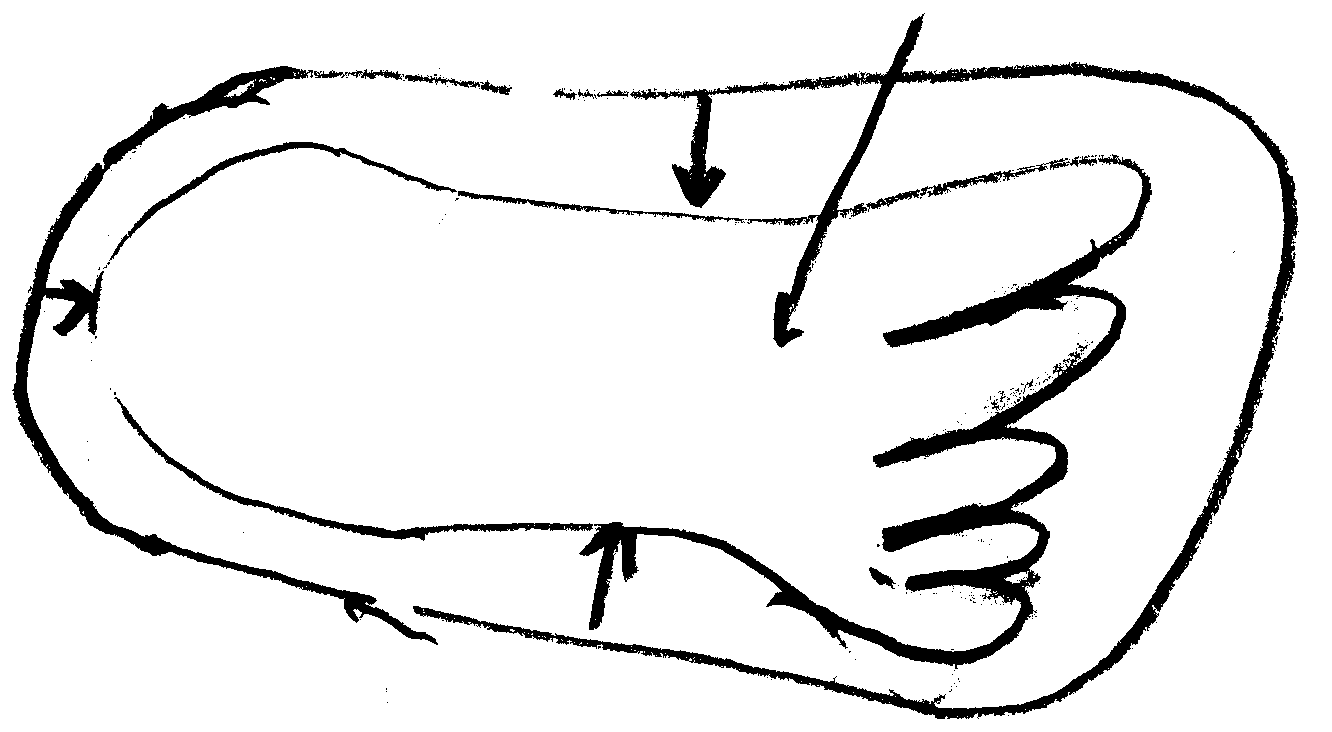 Non Surgical Treatment
Fortunately, there are simple things you can do to cure and correct your overpronation issues. Certain exercises help. Pull your toes back using a rolled up towel. Roll your feet over a golf or tennis ball for a minute. And do calf raises by standing up and lifting up on your toes. These all help reposition the foot and strengthen the muscles and tendons necessary for proper support. Beyond that, simple adjustments to footwear will help immensely.
Prevention
Pronation forces us to bear most of our weight on the inner border of our feet. Custom-made orthotics gently redistributes the weight so that the entire foot bears its normal share of weight with each step we take. The foot will not twist out at the ankle, but will strike the ground normally when the orthotics is used. This action of the custom-made orthotics will help to prevent shin splints, ankle sprains, knee and hip pain, lower back pain, nerve entrapments, tendonitis, muscle aches, bunions, generalized fatigue, hammer toes, and calluses.